Create your perfect garden in 6 easy steps
Written by
Thursday 17th June 2021

Having somewhere to relax, unwind, and entertain is a priority for many of us, so re-designing your garden can be an exciting project to undertake.
Whether you want a space to grow plants or veggies, somewhere for the kids to play or just a nice functional entertainment area, landscaping is the ideal way to make your garden work for you.
Here at Novuna Personal Finance, we've put together 6 easy steps for planning and creating your perfect garden this summer.
---
Get some inspiration
Before you start digging up your lawn or dismantling your old shed, spend some time researching what gardens and elements you like the look of.
Visit some garden centres, public gardens, or maybe even your friend's homes to get a feel of what options are available.
It's important to consider your garden size and your needs e.g space for children to play, a seating area, etc. Once you know what you want, start to get your ideas down in the form of sketches, mood boards or even just a collection of photos from the internet.
---
Choose a garden theme
Once you've got all your ideas down, you'll be able to identify some common themes such as styles or colours.
Try to keep it similar and link one or two ideas together – this will help make your garden feel more cohesive rather than lots of different concepts put together in the same space.
Even though there's lots of garden designs and trends, always go with what makes you happy rather than what's currently 'in'. It's important that you love the space you're designing and remember, you can always change it in the future - so have fun with it.
---
Embrace your natural environment
The gardens that thrive the most are those that work with their natural environment. Depending on where you live, exposure to wind or salty breezes for example could affect how your choice of foliage will grow, so try to research what work best in your area.
Also, the quality of your soil is key for a healthy, beautiful garden, so it might be testing your soil to find out pH it. This will stop you being disappointed if your chosen flowers don't flourish.
If you're still unsure on what to choose then why not take a peek next door and see what's growing well in your neighbours garden. This will give you a good indication of what to choose and what to leave out.
---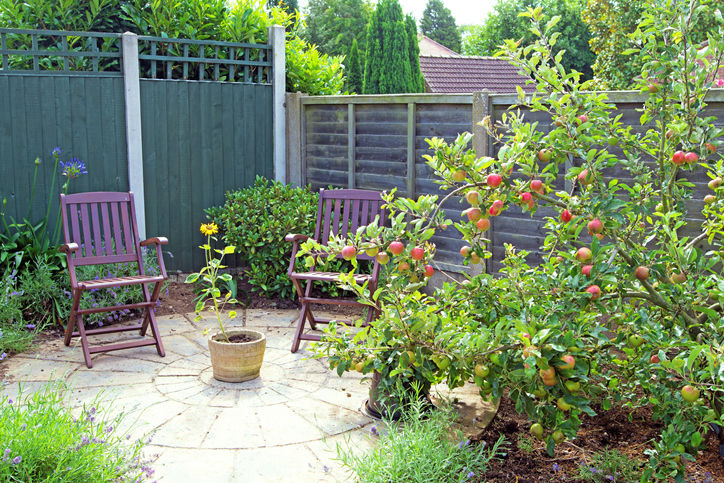 ---
Which way does your garden face?
Depending on which way your garden is facing will be a deciding factor on where things should go eg. there's no point having a decked area for enjoying the sunshine in the shadiest part of your garden.
Wait for a good day and track the sun from the morning to the evening so you can see where the shadows will fall. Even though it's not the most exciting job, it'll be worth it in the long run.
Another thing to be aware of are 'micro-climates'. These are the different areas of your garden that get different levels of light, warmth, and moisture. All gardens have these and by understanding where they are will help you plan where to plant your flowers.
---
Draw up plan of your garden
Once you have a rough idea of what elements you want to include, it's time to start drawing out a plan. The easiest way to do that is to use tracing paper over your original property plans.
Start by marking out the sections where you'd like your different functions to be such as a patio area, water feature or flowerbeds. This is also a good time to think about the different layouts you'd like for your path and how to route it around the garden.
If you're finding that you're struggling to come up with a concept you like, you can always get some professional help from a garden designer or landscaper.
---
Take your time
If you're making a lot of changes to your garden, try breaking the project down into manageable chunks which can be spread out over a few months. Prioritise what needs to be done to make your garden into a usable space over the ones that are just nice to do.
Don't be tempted to skip essential but tedious jobs in a bid to get the job done quicker e.g. Correct soil preparation for new beds or you'll be disappointed when your flowers or veggies fail to grow properly.
Even if you're planning on most of it yourself, some jobs will need to be done by professionals such as installing or moving gas, electricity, or water pipes.
---
Low cost home improvement loan
If you're ready to tackle your garden and turn into a much-needed outdoor space, our low cost home improvement loans can help. You can borrow between £1,000 and £35,000 with competitive rates from as low as 3.1% APR Representative.
More articles we think you'll enjoy
{{article_summary}}