The best products to combat stress and anxiety
Written by
Thursday 25th February 2021

Stress and anxiety can affect us all – especially now - and the simplest of stressors can have an impact on your mental wellbeing as well as your physical and emotional state.
We've sought out the best products which you can buy online now to help you unwind and re-centre.
---
Mindfulness Journal
One way of dealing with any overwhelming emotion is to find a healthy way to express yourself and identify what's causing your stress or anxiety.
Research from the University of Rochester Medical Centre has suggested that keeping a journal is an invaluable tool in managing your mental health.
This wellness journal has been designed to guide you through the whole process with helpful tips, mood trackers and daily goals to keep you on track.
---
Weighted blanket
Anxiety and stress can be damaging to the quality of sleep that you'll get, but with so many sleeping aids available out there, it can be hard to find the right one.
If you prefer to stick with natural remedies, then a weighted blanket could be just the ticket. This type of blanket provides deep touch pressure that can help boost your serotonin and melatonin levels. When your serotonin level increases, it can be easier to relax into a more restful sleep.
For those who sleep alone, the weighted blanket creates a comfortable cocoon which imitates getting a hug from someone which can be very soothing when you're feeling blue.
---
Sun lamp
With many of us spending more time inside than out, the lack of natural sun exposure can have a negative effect on your mood.
Light therapy has been proven to be a very effective way of treating stress and anxiety as well as depression and seasonal affective disorder (SAD).
Before using one of these lamps, it's worth checking with your doctor first and make sure to follow the instructions.
---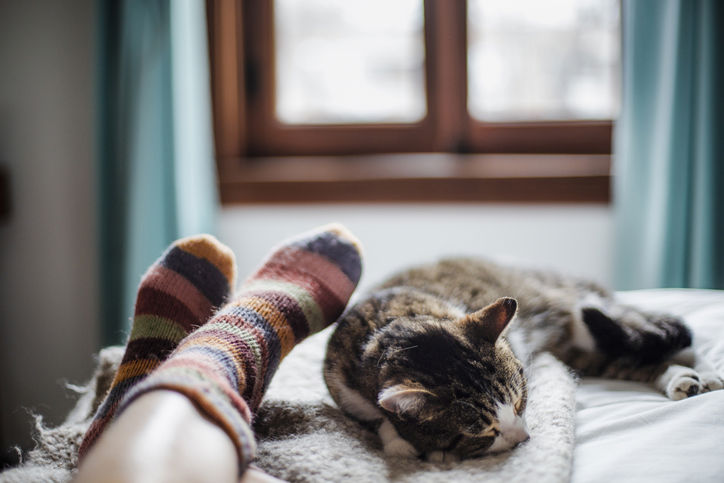 ---
Essential oil diffuser
While it isn't the magic cure that has been made out to be, studies show that aromatherapy can help reduce anxiety.
As there are very few side effects, it can be used passively via a diffuser and combined with other stress relieving activates like meditation.
Diffusers offer quick and easy stress relief by filling the room with scented water vaper and are much more practical that candles or joss sticks (as they can be left while you sleep).
Tenswall 400ml Essential Oil Diffusers £27.49 and an essential oils starter pack for £12.99
---
Acupressure mat
Acupressure stimulates pressure points in the body which releases endorphins to help stimulate nerves, improve blood circulation, stress relief, relaxation and aid sleep.
Research shows that this type of therapy can provide immediate relief from anxiety however it's not always convenient or possible to book a therapy session.
Acupressure mats are a great alternative to use at home with a short 10 to 15 min session whenever you need to feel a sense of calm.
---
Adult colouring book
Art therapy has been shown to help those who struggle with stress and anxiety by promoting a sense of calm, self-expression and acts as a form of meditation.
If you're not very creative or prefer to just concentrate on colours, then picking up a colouring book and getting to work can be very soothing if you're feeling stressed or anxious.
With plenty of different styles to choose from, you'll find one that's perfect for you.
The Little Book of Calm Colouring: Portable Relaxation £5.99
---
Portable shiatsu massager
Shiatsu massage is the best type of massage for when you want to feel relaxed and relieve stress, pain, and tension.
It's a Japanese style of massage that may help to relieve anxiety and depression. Having your own portable massager is the easiest and most cost effect a way of achieving stress and anxiety relief whenever it's needed.
More articles we think you'll enjoy
{{article_summary}}