Platinum trusted service from Novuna Personal Finance
Our customer satisfaction is vital to our success, which is why we're the only provider to give full visibility of our reviews, updated in real-time, 24 hours a day.
Below are some of the latest comments from our customers. Or click here to view them on our external Feefo page.
We are proud to announce that we have once again won the official Feefo Platinum Trusted Service award for 2022. This is the third time we have been recognised as a leader in our field with Platinum status, with 2 consecutive years of winning the Gold Award prior to that.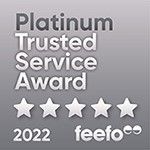 Date
Review
11/08/2022

11/08/2022

Quick and Painless Personal Loan Request

I was impressed by the whole review process, how quick and painless that process was, and how quickly I was able to get answer. I did use MoneySupermarket first to see who I would likely be successful with, so good to know that worked. They offered a very competitive rate too! Hopefully the next 48 months will continue to be a good experience :)

11/08/2022

11/08/2022

Fantastic & Easy

It was easy to apply. Quick response & the money was in my account in no time. & Forgot to mention lowest interest rate in the market.

11/08/2022

11/08/2022

Loan application

Used Money Expert loan finder and Novuna came up, appeared a good rate and was preapproved, so went for it. Didn't get the quoted interest rate but repayment was within my budget Loan went through quickly and money in account next day.

11/08/2022

11/08/2022

Fast and easy process

Application process quick and money in account within 2 days!

10/08/2022

10/08/2022

Competitive, easy to apply loans

Competitive interest rate, easy to use application. Sliders helpful to see repayment and loan options. Transparent costs.

10/08/2022

10/08/2022

Excellent service

Fast and efficient, no hassle, excellent communication, money in the bank the next day

10/08/2022

10/08/2022

Im very happy

It's been very good service.

10/08/2022

10/08/2022

excellent service

easy t use covered all of my concerns. thank you

10/08/2022

10/08/2022

Quick and easy, cheap!

10/08/2022

10/08/2022

Everything simple and clear and very quick.

10/08/2022

10/08/2022

Prompt and efficient service

Dod online request and got the money with 48 hrs and good customer service

10/08/2022

10/08/2022

Very easy and quick would recommend

Very good process of application and very quick response and transfer thank you

10/08/2022

10/08/2022

Really easy process from inception to completing Thank you

10/08/2022

10/08/2022

Excellent

It was so easy and straightforward to fill out the application and the money was in my bank the next day. Excellent service

10/08/2022

10/08/2022

Easy to fill form,quick service

10/08/2022

10/08/2022

Simple and effective service

Simple process and did everything they said they would

10/08/2022

10/08/2022

Excellent

Great service, prompt payment.

10/08/2022

10/08/2022

Had a couple of loans with Hitachi before the name change, providing a great service with fair interest rates I've currently successfully applied for a further loan so many thanks.

10/08/2022

10/08/2022

Fast and efficient

Fast and efficient service and I like the live app

10/08/2022

10/08/2022

Quick to apply, quick payment

Very easy to apply and very quick payment 👍 It does help if you do your homework and check your credit score first before you apply. Really happy with the whole experience

10/08/2022

10/08/2022

Fast, Efficient, Simple

fast, efficient, simple application process, great interest rates available and a speedy decision process helped me secure the great deal I was looking to purchase with no hassle

10/08/2022

10/08/2022

My loan request went through without a hitch and was dealt with quickly

10/08/2022

10/08/2022

Simple process

Simple to apply for a loan and reasonably quick to accept and recieve funds.

09/08/2022

09/08/2022

Useful for older people.

Very pleased to get a loan to pay off my very small mortgage. The mortgage company considers me too risky at the age of 67, so they are losing out on my money.

09/08/2022

09/08/2022

Exemplary ⭐️⭐️⭐️⭐️⭐️

From enquiry to completion, the process was easy to follow, clear in its communications and efficient. It is rare to say this about a company at this time but you have been exemplary. Thank you

09/08/2022

09/08/2022

09/08/2022

09/08/2022

quick service

09/08/2022

09/08/2022

Excellent service

Excellent service .fast and no hassles

09/08/2022

09/08/2022

Very poor service!

Loan application was made and approved but then had to chase up payment for almost 2 weeks only to be told they now wanted extra proofs yet they didn't call or contact. Loan was finally paid out towards the end of the month and they still had the nerve to charge the interest from the beginning of the month and then wanted the first payment only a few days after finally receiving the payout! Very poor to a) charge interest before the loan was even paid out and b) not allow the first payment to be moved to the following month. Not a great experience to be honest!!

09/08/2022

09/08/2022

easy to do took less than5 minutes and less than5 minutes to get an answer

it was so easy less than 5 minutes to fill in the forms and less than 5 minutes to get an answer fantastic

09/08/2022

09/08/2022

Simple fast & efficient process.

Logical application system. Forms simple and quick to fill out. All relevant info right there on the screen. Could not have been easier.

09/08/2022

09/08/2022

Very simple and quick process

Very simple-to-use website and application process, with a fast approval.

09/08/2022

09/08/2022

Really great

09/08/2022

09/08/2022

great service

great service quick turn around loan was in my account within 24 hours of being excepted thank you all the team

09/08/2022

09/08/2022

Professional quick service

09/08/2022

09/08/2022

Personal loan

Excellent and a great help in future home improvements we have already completed 2 purchase agreements with you and were just as impressed with the loan rates thank you

09/08/2022

09/08/2022

Brilliant service

Brilliant service,

09/08/2022

09/08/2022

P. Singh

Novuna deliver great service by giving me personal loan when I need it. Many thanks.

09/08/2022

09/08/2022

perfect borrowing experience

I have used Novuna when it was HFC and always found it a good experience, It is easy to apply and you are approved in minutes and the money is in your Bank Account within two days. The interest is shown in the Quotation, so you know all the charges. Everything can be done online. Set up your account and manage it on line too. Never had cause to be concerned and have several accounts over the Years

09/08/2022

09/08/2022

Car loan

Very straight forward process and fast response. The rate offered was (is) excellent and just before the latest base rate increase. My bank was THREE times the rate and I have a thirty year track record with them.

09/08/2022

09/08/2022

quick and easy.

Simple and quick to get the whole thing completed.

09/08/2022

09/08/2022

Quick and easy

It was an easy process, click, fill in some details, read terms and conditions a d confirmation was fast.

09/08/2022

09/08/2022

Fast, smooth and satisfying.

The process was simple and straightforward. After ypur credit checks completed. Them its all smooth. Easy to navigate through thr site. Highly recommended

09/08/2022

09/08/2022

Good experience and good rates

Loved the link with clear score, easy to apply and good rates

09/08/2022

09/08/2022

Fairly good service

The process was easy & very understandable. Told quickly regarding acceptance and sent forms to esign, Slight glitch at this point as then kept getting reminders to sign even tho we had. Had to ring up to resolve and move on to next stage

09/08/2022

09/08/2022

Super simple and a country mile ahead on rates compared to other lenders.

Probably the most simple application I've ever made with an instant decision. Lower rate than most mortgages too. Very happy.

09/08/2022

09/08/2022

Quick and Easy Service

Easy and quick questions to answer and a really quick decision. Would recommend.

09/08/2022

09/08/2022

Excellent from start to finish. I was always updated via email.

09/08/2022

09/08/2022

Application was easy and decision was fast.

09/08/2022

09/08/2022

Fantastic Service

Easy to apply, quick answer, fantastic service

09/08/2022

09/08/2022

You had faith in me, that means a lot to me. So pleased with the service, that's twice you have helped me out and I would recommend you to anyone and everyone.

09/08/2022

09/08/2022

Great service

Fast, easy and money received with in a few days

09/08/2022

09/08/2022

Excellent

Quick, straightforward easy to understand service and product. Decision in seconds and the money was available the next day.

09/08/2022

09/08/2022

Personal loan

Applied for a personal loan. Novuna's service was fast and efficient and decision given promptly with funds transferred within 48 hours. Great experience 👍

09/08/2022

09/08/2022

Meeting my needs in less than 24 hours

So amazed by your quick processing. You met my needs. Thanks so much. I commend your company and will share my experience with friends. Keep up the good performance.

09/08/2022

09/08/2022

Great service

Incredibly quick and easy. No fuss

09/08/2022

09/08/2022

Great way to get a loan

Just a smooth, easy transaction with clear views on the process

09/08/2022

09/08/2022

Great thanks

09/08/2022

09/08/2022

Quick and easy

The process was quick and easy, the only thing I would change is updating on when money was actually released so can track at bank.

09/08/2022

09/08/2022

A very useful lot of people

Yes I would a very useful lot of people very little paperwork

09/08/2022

09/08/2022

Online application

Easy application and prompt decision making with my application.

09/08/2022

09/08/2022

Very easy application and funds received in 2 days

Very easy .

09/08/2022

09/08/2022

Great service

No drama, no problems, paid cash into my bank account in only a few days. Decent interest rate.

08/08/2022

08/08/2022

Awful. Promise u a rate, which they do not deliver on. U then have a search against you. I have a 999 Experian rating so no reason why they behaved in this way.

08/08/2022

08/08/2022

Speedy service

Excellent service, super fast decision & money transferred in quick time. Also interest rates are the best I've seen.

08/08/2022

08/08/2022

Excellent interest rate and very straightforward to arrange.

08/08/2022

08/08/2022

Amazing personal finance company 👌

I have taken few loans from Hitachi! Now Novuna. I feel their interest rate is one of the best rate and you get a decision almost straight away and I get the money in my given account within 24 hours.

08/08/2022

08/08/2022

Personal loan

Mutual trust in deciding the loan ( awaiting response to my request for lower APR. and hopeful) Quick and efficient online decision making, settling of agreement and funds transfer I am happy doing business with you and have been so over last 9 yrs Thank you

08/08/2022

08/08/2022

Hassle free loan process

Simple application process with speedy response to approval. Loan issued straight into bank once accepted. Would highly recommend

08/08/2022

08/08/2022

Very quick decision

08/08/2022

08/08/2022

Application review

Great service easy application process and payment received quickly

08/08/2022

08/08/2022

Great service on a digital platform.

Quality service. Easy to deal with and would recommend to others.

08/08/2022

08/08/2022

Quick and easy !

Excellent took minutes to be accepted for a loan. A day to receive the money very fast and efficient Many thanks

08/08/2022

08/08/2022

Seamless process

08/08/2022

08/08/2022

Excellent service

Easy to apply and quick handling of the application

08/08/2022

08/08/2022

Fantastically easy to apply

I had an answer in minutes and the transfer of the money happened the following day. That's what I call great service.

08/08/2022

08/08/2022

It was very good experience. Very easy process

I would recommend them and would love to do business with them again

08/08/2022

08/08/2022

The whole experience couldn't have been any simpler,excellent

Excellent from start to finish, very easy to use the loan calculator, straightforward question's to answer, approved conditional in second's, it could not have been any easier.

08/08/2022

08/08/2022

Very easy to apply process was very easy and every thing was great!!

08/08/2022

08/08/2022

Problem free easy to apply and a very quick decision

Nice and easy to apply and a very quick decision

08/08/2022

08/08/2022

Fab and simple process

Easy process and straightforward. The application wasn't complicated and got a decision within minutes. Great simple service.

08/08/2022

08/08/2022

Yes I would definitely use Novuna agin. Quick and easy service

08/08/2022

08/08/2022

The Apr was higher then I thought it should be.

08/08/2022

08/08/2022

Simple and organised process.

Easy to organise. Simple and straight forward process. Rate was as stated. Was considerably cheaper than the car garage finance company. Will use same process next time I'm buying a car too.

08/08/2022

08/08/2022

Quick and efficient

Easy to use online service and quick decision. Happy days.

08/08/2022

08/08/2022

Superb company

Yes superb company 👍

08/08/2022

08/08/2022

Quick and easy

Very quick and easy experience. Received the loan into my account within timescale given.

08/08/2022

08/08/2022

Excellent service

Novuna were excellent. And the application for finance was made simple and straightforward from start to finish.

08/08/2022

08/08/2022

Good experience and very good customer service.thank you

08/08/2022

08/08/2022

Great service from start to finish

Great service from start to finish, highly recommend

08/08/2022

08/08/2022

Just an excellent service, everything was very straightforward. First class

08/08/2022

08/08/2022

Great easy service interest rates a little high though

Easy application

08/08/2022

08/08/2022

Fast and efficient service

Excellent service , was fast and straightforward, received funds straight into my bank really quickly repayments are reasonable

08/08/2022

08/08/2022

Very easy to deal with

Yes I would highly recommend them

08/08/2022

08/08/2022

Great service

Very fast and extremely easy service, no messing around I got what was offered

08/08/2022

08/08/2022

Trustworthy company

Easy website to use, clear costs of loans, quick decision and paid out following day.

08/08/2022

08/08/2022

Very straightforward experience

Very easy and straightforward to use. When it was previously Hitachi finances I also used to purchase a Jacuzzi which I cleared the finance quickly.

08/08/2022

08/08/2022

On line loan application.

Very easy online application, good website and excellent service. Quality company.

08/08/2022

08/08/2022

Top up loan

Very easy to use website. Quick response and decision for my application for a top up lian

08/08/2022

08/08/2022

Quick, easy. Brilliant

Easy go apply, quick answer. Recommended