8 simple ways to secure your home
Written by
Wednesday 16th June 2021

According to data from the 2020 ONS Crime Survey, 1 in every 100 homes in the UK are burgled each year* with Greater Manchester being the worst hit area  - with 16 out of every 1,000 homes being affected.
During the height of the Covid-19 pandemic last year, there was a 35% drop compared with 2019, however, with life slowly returning to normal, and more people spending time away from their homes, criminals are starting to take advantage once again.
Here at Novuna Personal Finance, we have put together some of the simplest and most effective ways to keep you and your home safe.
*this includes all burglary incidents, including attempted burglaries
---
Install a security system
Whether you opt for a DIY system or one that comes with professional monitoring, every home should have at least some level of protection.
Security systems usually include entryway sensors and motion detection devices with smart equipment add ons available such as video doorbells, security cameras and even smart locks for extra protection - and the best bit is that you can use your smartphone to control them.
Most home security systems are easy to install but if you'd rather get a professional in, there are plenty of companies to choose from.
---
Secure your doors
Don't let a burglar wander into your home through your front door - as nearly 34%* of them actually do!
Take the time to inspect all your exterior doors – including checking that the door frames are strong and the hinges are protected. Don't forget to secure your letterbox so someone can't reach through to unlock the door or get hold of your keys.
If you've just moving into a property, its always recommended to change all your locks to ensure no one apart from you has access.
For extra security and peace of mind, installing a deadbolt, strike plate or consider upgrading to smart locks to add another layer of protection to your home.
---
And check your windows
Windows are a common way for burglars to gain access to your property so the best (and easiest) way to secure your windows is always to keep them locked.
You can also install window sensors with chimes so you'll know when any window is opened, and a glass break sensor will alert you to any potential break ins.
The same with checking your exterior doors, make it a habit to double-check them regularly to make sure they're secure and burglar-proof, and replace any that have worn frames or dodgy locks.
---
Add security cameras
If you don't want a full security system, it doesn't hurt to add a couple of security cameras around your home.
There are plenty of options to choose from that suit almost every budget, from standard CCTV cameras that require local storage to smart security cameras that are easy to install and controllable from your smartphone.
Before buying a camera, check that you have secure storage available with encryption to keep all recordings safe and secure.
---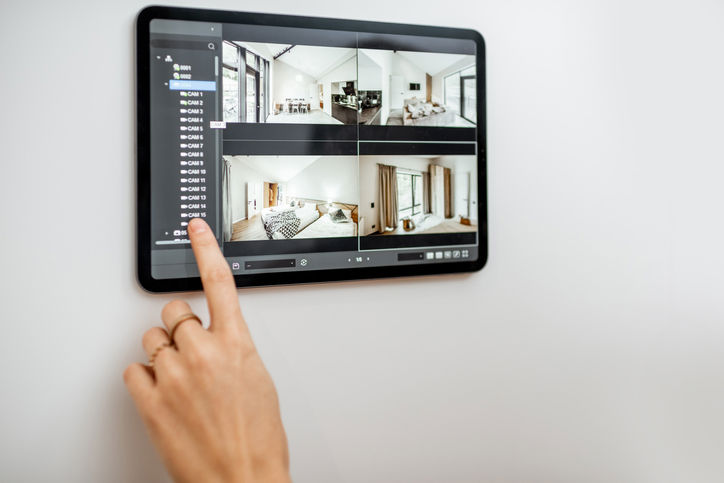 ---
Landscape your garden
Every homeowner wants to spruce up their outdoor space and even add some privacy, however, the more you plant, the more hiding places you create.
You can still have a lovely garden but try to limit the number of privacy spots you have and instead keep your lawn tidy and opt for low level plants or foliage instead of large bushes or tall trees.
Security lights with motion detection are a great way to illuminate your garden when it gets dark and prevent anyone invading your space.
It's also advisable to keep any ladders or outdoor tools safely locked away in a shed or garage to prevent these being used to access your home.
---
Lock up your garage
If you're lucky enough to have a garage attached to your home, be mindful that this is another way for criminals get in.
Always check that your garage door(s) are securely shut each night as well as locking the internal door if you have one.
For those of you who store tools or other valuables such as bikes in your garage, make sure to keep these out of sight when you do have the doors open as not to attract any unwanted attention.
---
Protect your valuables
Taking proactive actions to secure your valuables in your home will save you the headache and heart ache of trying to replace them should the worst happen.
Invest in a good quality safe that requires a code or a fingerprint, then find a decent hiding spot in your home to keep it – some people even secure them to the wall or floor so that can't be removed if they do get discovered.
It's also worth keeping a detailed list of your valuables with pictures and the monetary value for insurance purposes - just in case.
---
Lock down your Wi-Fi network
If you use home automation and smart security in your home, your Wi-Fi also needs to be protected.
The best way to keep your connection safe is to enable WPA (Wi-Fi Protected Access) or have WPA2 encryption, use a firewall, create strong passwords, and have antivirus installed.
---
Low cost home improvement loans
If you're looking to upgrade you home and need a helping hand, our low-cost home improvement loan can help. You can borrow between £1,000 and £35,000 with competitive rates from as low as 3.1% APR Representative.
---
More articles we think you'll enjoy
{{article_summary}}