Buying your first mountain bike
Written by
Monday 24th May 2021

When it comes to choosing your first mountain bike, there's so much choice and to a newbie, it can feel overwhelming. They might all look the same but can be very different in terms of quality, performance and rideability.
Depending on what you'll be using your bike for, you'll need a mountain bike that can keep up - whether that's going on leisurely weekend trails to exploring nature or tearing down a mountainside at top speed.
To make it a bit easier, we've put together this easy beginner guide to answer all your questions and help you choose the right mountain bike for you.
---
What is the best mountain bike?
There isn't just one answer to this question.
Depending on your requirements, a bike designed for racing cross-country isn't the same as a one for trail riding on a weekend.
When choosing a bike, there's some important things to keep in mind:
Try to avoid full suspension bikes - they will be super heavy which will affect the quality of the ride.


Avoid buying your bike from a supermarket/catalogue - they're likely to be poor quality and the best choice of trail riding.


Opt for aluminium frames rather than steel or chromoly – they will be much lighter and easier to handle.


Choose hydraulic disc brakes if possible.


Try to get air-sprung suspension forks – this makes it easier to set the bike up to your body weight.


Choose a Shimano or SRAM drivetrain, preferably with a single chainring up front and wide-range cassette at the rear.
---
How much should I spend on my first mountain bike?
Even though some supermarkets and catalogues retailers sell 'mountain bikes for as little as £100, bikes at this price just aren't up to the job.
They're likely to have weak, heavy, low quality steel frames rather than a lightweight premium aluminium one, fitted with poor quality components that won't last very long if you're riding it off road on challenging trails.
If you set your budget at around £400, you'll end up with a bike that can deal with most of the different terrains without falling apart after a couple of uses. However, the more you invest, the more likely it is that your bike will more suited to your needs.
It's worth investing a little more money in the beginning to guarantee a good experience and quality product. The last thing you want is your bike breaking miles away from anywhere and then having to spend more money to get it repaired.
---
What size mountain bike do I need?
When it comes to choosing the right size bike, especially if it's your first one, can be tricky. Most manufactures will provide a size guide but it's always best to visit a reputable bike shop. They'll be able to help find the right one for you and answer any questions you might have.
It's always recommended to try and get the largest frame you can which still allows enough 'stand over' - this is the remaining space between you and the top of the bike frame when you're standing over it with both feet on the floor.
If you choose a bike frame that's too big, it can lead to you being in an uncomfortable stretched out riding position. If the frame is too small, you'll feel cramped and feel nervous when riding, with a less than ideal efficient pedalling position.
---
What size wheels do I need?
Depending on who you ask, you'll get a different opinion from each person, but 29-inch wheels seem to be the most common size on new mountain bikes at almost every price point.
This size wheel can compensate a lack of sensitivity in the fork while providing more stable handling which is ideal for a beginner.
Regardless of size, decent quality tyres can make a huge difference to how the bike rides. If you're going to be riding on dirt tracks, choose an aggressively knobbly tread for extra grip or a light treaded tyre if you're planning on cycling on hard flat surfaces.
---
How many gears do I need?
Choosing a bike with a drivetrain that provides a wide range is important to good off-road performance. If you opt for a smaller sized front chainrings and a cassette with bigger sprockets at the rear, this will give you plenty of range to get up steep hills without too much extra effort.
Many entry-level bikes will only have a seven-speed cassette, but most rider prefer to go with eight, nine or even ten-speed blocks but they are more expensive to purchase.
---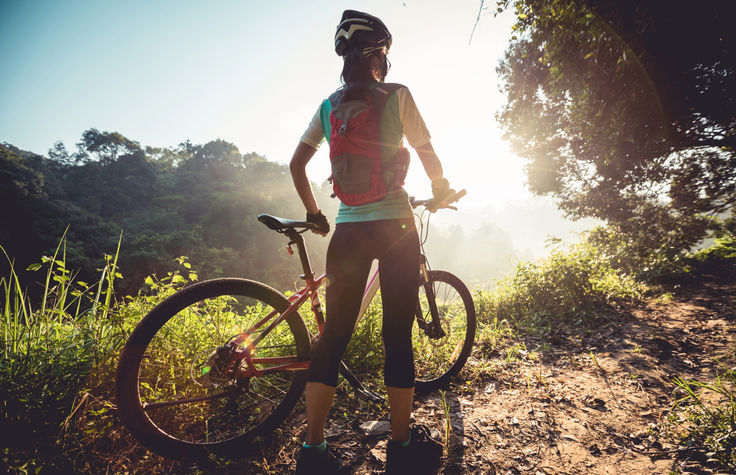 ---
What brakes should I have on my bike?
If you're planning on spending a lot of time riding in our famous British weather, making sure you have a set of brakes that still work perfectly when they're wet in a must!
Car-style disc brakes fitted to the hub of the wheel are much better than a set of cheaper rim brakes. They'll keep working regardless of the conditions and without wearing out your rims over time.
If you have a bit more to spend, then it's worth opting for disk brakes that use hydraulic fluid to operate. This style of brake is good as they require very little maintenance and offer better stopping power.
---
Is there anything else I need to know?
Obviously, a comfortable seat should be at the top of list if you want to be as comfortable as you can on those longer rides.
Don't be fooled into thinking bigger is better as large seats with lots of padding can often be more uncomfortable than slim, better-shaped ones.
---
Can you ride a mountain bike on the road?
Yes – but where's the fun in that?
---
Can I use a mountain bike on a turbo trainer?
For those days when you can't get out on the trails but still want to ride your bike, hooking it up to a turbo trainer is the next best thing.
Most direct drive trainers are compatible with mountain bikes if you have the correct adapters for your bike and a cassette that is compatible with the drivetrain on your bike.
---
What is a good mountain bike for a beginner?
To help you find the right bike for you, we've asked our experts at Rutland Cycling for their top pick in each of our price points.
Giant Talon 4 27.5 Inch 2021 Aluminium Hardtail Mountain Bike Eclipse

Get a feel for the track with this all new aluminium hardtail made for aspiring single track riders.
The Giant Talon 4 2021 Aluminium Hardtail Mountain Bike is built on a new lightweight ALUXX aluminium frame that features classic hardtail design plus the balanced riding characteristics of either larger diameter 29-inch or 27.5-inch wheels, Talon is a great choice for XC or light trail terrain.
The frame geometry is specifically designed to adapt to its respective wheel size and either an 80mm or 100mm suspension fork (depending on frame size). It's a confident ride that's perfect for ambitious riders who want to take their off-road skills to the next level. With the Giant Talon 4, you can push the pace on climbs and let loose on the descents.
Liv Tempt 3 2021 Womens Aluminium Hardtail Mountain Bike Teal
Get on the dirt and ride your way to your first single track.
The Liv Tempt 3 2021 Ladies Aluminium Hardtail Mountain Bike is built around a lightweight ALUXX aluminium frame designed specifically for women, with 27.5 wheels that combine speed, efficiency and control.
A 100 mm suspension fork and powerful hydraulic disc brakes offer added confidence and control. It also has the latest mountain bike trends, with a shorter stem and longer top tube for extra stability and control.
The Liv Tempt's performance-minded yet comfortable geometry gives it the versatility for both a daily commute and off-road rides.
Specialized Rockhopper Comp 2x 29 2021 Hardtail Mountain Bike Smoke
The Specialized Rockhopper Comp 29 is the perfect riding partner to let you attack twisty technical trails with responsive handling and confidence inspiring stability.

It's 29 inch wheels are super fast rolling and can go over obstacles with ease, while the Suntour XCM fork upfront soaks up bumps in the trail, keeping you comfortable and able to tackle tougher obstacles
You'll have plenty of reliable gears for all terrain with the double Shimano 9 speed drivetrain, while hydraulic disc brakes provide reliable stopping power and great modulation in all weathers and all riding conditions.
---
Low cost mountain bike finance
If you're ready to hit those dirt trails on an adrenaline fuelled ride, our flexible bike finance allows you to spread the cost of your purchase over a period of five years.
You can borrow between £1,000 and £35,000 with competitive rates from as low as 3.6% APR Representative.
More articles we think you'll enjoy
{{article_summary}}