Easy wedding guide for a stress-free day
Wednesday 21st April 2021

Last year was challenging for couples planning to tie the knot with many of them choosing to postpone their wedding day. However, there's light at the end of the tunnel in the form of the official Government road map which will see weddings return to normal from 21st of June 2021.
Key 2021 wedding dates from the official lockdown roadmap:
Step 1: 8 March - Weddings will be limited to six attendees.
Step 2: 12 April - Weddings of up to 15 people are allowed and hospitality opens up.
Step 3: 17 May - Weddings of up to 30 people are allowed with the ability to gather outdoors and indoor hospitality venues reopen.
Step 4: 21 June - Lockdown fully lifted and weddings return to normal with no limitations.
With this is mind, this year is set to be one of the busiest as couples rush to get their plans back on track and finally tie the knot. So, to help you with your wedding planning, we've put together some key points to consider to make your special day stress free.
---
Keep an open mind when choosing the date
Not only will weekend dates be booked but mid-week and off-season dates will be snapped up even faster compared to previous years. With venues and suppliers prioritising postponed bookings, newly-engaged couples may struggle to get a date that works.
If you're happy to wait and push your wedding day back even further to next year, you'll be able to enjoy better availability from venues, suppliers and even for your guests, which will make your whole experience less stressful.
---
Choose a venue that takes health and safety seriously
When you're looking at potential wedding venues, making sure that they prioritise yours and your guests health and safety above profit. Even if you feel awkward, its important to ask all those tricky questions make sure they are following the government guidelines.
Will your employees be wearing masks and clean uniforms?


What is your social distancing procedure?


How often are high traffic areas and touch points cleaned throughout the day?


Has your air conditioning system been updated to meet with COVID guidelines?
By choosing a venue that will enforce the rules, it'll come in handy when it comes to policing your guests behaviour after a couple of drinks and social distancing starts to get forgotten about. You'll still be able to enjoy yourself without worrying about everyone else.
---
Don't skimp out on reading your contacts
It's been over a year since the pandemic started and many contracts are now likely to come with a COVID-19 clause.
Understanding all associated risks is important in the event something out of your control should something happen e.g. a cancellation will prevent any disappoint or monetary loss.
If you don't see a COVID related clause included, don't be afraid to ask for one adding in so that you know you'll be to covered and leaving no room for negotiation later.
---
Consider hiring a wedding planner
With so many additional things to consider due to restrictions still being in place, hiring a wedding planner is a good investment to ensure your special day goes off without a hitch.
Not only will they be fully versed in the the constant policy and guideline changes, they will also be able to advise on which suppliers to use, how best to arrange your seating, help with setting up 'invisible' sanitary stations.
They might even be able help with picking up items that would usually be delivered to minimise the number of people entering the venue.
---
Keep it small
Even if you're planning your wedding after the June lockdown lift, keeping your guestlist shorter will not only make the whole affair seem more intimate but will also make your budget go further.
When it comes to creating your guestlist, it's best to start with your nearest and dearest – parents, bridesmaids, best man, groomsmen, siblings and grandparents before thinking about friends and distant family.
For those who don't make the cut, embrace technology and get them involved in your special day via Zoom, social live stream or even as a virtual reality experience!
---
Inform your guests of guidelines
Don't take for granted that all your guests will know and adhere to the safety guidelines and instead provide them with the information they'll need on what's expected for your big day.
Plan ahead and send out small care package which includes a short list of safety requirements, a facemask, hand gel and anything else you think should be included.
This is a great way to prevent any embarrassments or awkwardness on the day.
---
Live stream your day
As we mentioned previously, for guests who are unable to attend your wedding in person, having a live stream of the event will make sure no one has to miss out.
It's worth hiring a professional to take control of the live stream as they will have top quality cameras and film from the best angles so that your virtual guests feel as though they are really there.
You could also ask to have a recording of your livestream as a memento to re watch for years to come.
---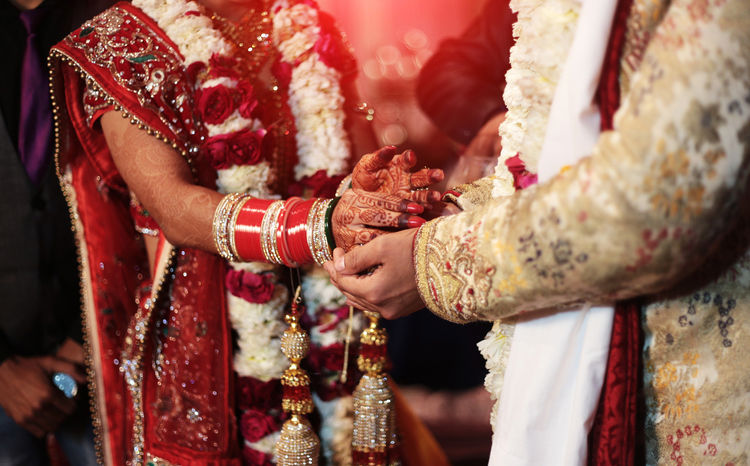 ---
Don't overcrowd your tables
Try and seat your guests in a way that will make them feel comfortable and be conscious of who is in their bubble.
Using smaller tables or having different size options available will allow for more flexibility and preventing seat swapping or clusters of guests.
There are so many different ways you can arrange your seating from restaurant style to family pods to single sided tables where no one has their back to one another - the possibilities are endless.
---
Wedding photography
Just because social distancing measures are in still place, doesn't mean you have to miss out on capturing those candid moments.
Have fun creating some alfresco shots where the wedding party can be spaced out as well as turning it into an enjoyable outdoor event - you'll definitely be able to get creative and capture some truly unique photos.
For everyone else, it might be worth setting up a photo booth with fun props available for your guests to use throughout the day.
Bonus - Set up an online photo album so everyone who attended can upload and share their favourite pictures with each other.
---
Choosing your dream wedding outfit
Thanks to COVID, more brides and grooms are opting for smaller and less-formal event where traditional wedding gowns and suits are being ditched in favour of more low-key but equally fabulous outfits.
If you're not a fan of those huge tulle skirts or three piece suits complete with cravats, break the rules and embrace colours, prints and floaty fabrics that are this seasons must haves - maybe even take it a step further and consider jumpsuits instead of bridesmaid dresses.
Keep in mind that until July, facemasks are still compulsory so take this opportunity to match yours to your outfit!
---
Prepare for sudden changes
Guidelines and circumstances can change suddenly so having a quick and convenient way to contact your guests is a life saver. Consider setting up an email mailing list, group chat on WhatsApp or private group on social media to keep everyone in the loop.
---
Take out wedding insurance
Wedding insurance is worth investigating if you're worried about the pandemic impacting your plans and need help to help cover any potential monetary losses.
---
Say 'I do' to our low-cost wedding loans
Make your wedding day everything you want it to be with our quick and easy wedding loans. You can borrow between £1,000 and £35,000 with competitive rates from as low as 3.1% APR Representative.