8 important car checks to make before buying a second hand car
Written by
Tuesday 30th March 2021

So you've found the car you like but now you're stood next to the car with no idea what to do next. Walking around the vehicle, kicking the tyres isn't going to get you very far if you don't know what you're looking for.
Our essential checklist is a great starting point and will give you a must needed overview of what to look out for.
---
Tyres
Forget kicking the tyres but spend some time looking at each one. Make sure that there are no cuts or bulges and check the tread depth as well. The legal tread minimum is 1.6mm. If it's below 3mm then you may have to replace the tyres quite soon, so it's worth factoring this into your negotiation.
---
Electrics
Try EVERYTHING – put the windows up and down a few times, turn the radio on and off, test the aircon; basically, press every button and feature to ensure they are in good working condition. The last thing you want is to get into your new car the next day to find out the headlights won't turn on.
---
Bodywork
It's best to try and check bodywork on a good clear day as dim lighting or bad weather can make spotting issues harder. Small chips and dents are to be expected on a used car but if there are visible gaps between panels or the colour doesn't quite match then this could indicate a poor repair job. Alternatively, if the body work looks near perfect with no visible signs of wear and tear for its age then it may have been repaired after a crash.
---
Glass
Check for any signs of cracks or chips. This could be an added expense as it will need replacing and this is also a MOT fail. While you're at it, check all lights for cracks, fogging or internal moisture.
---
Interior
Stains and tears in the upholstery can be off-putting as well as any bad smells such as cigarette smoke. It may be costly and hard to remedy later and could affect your own resale value further down the line.
---
Under the bonnet
Don't be afraid to pop the hood and check all the fluid levels. If they are low, this could indicate poor upkeep. Check the oil cap for a white creamy substance – this is a sign of coolant mixing with the oil and a sign of head gasket failure. Also, it's worth looking for any oil leaks by checking where the car has been parked.
---
Wheels
Have the wheels been kerbed? If so, they will have tell-tale scratches to the alloys. Check if the car comes with a spare tyre as well as lifting jack and adapter for locking wheel nuts.
---
Wear and tear
Ensure that the signs of use match the age of the car. Low mileage yet heavy wear on the steering wheel, pedals or seats could indicate that something isn't quite right.
---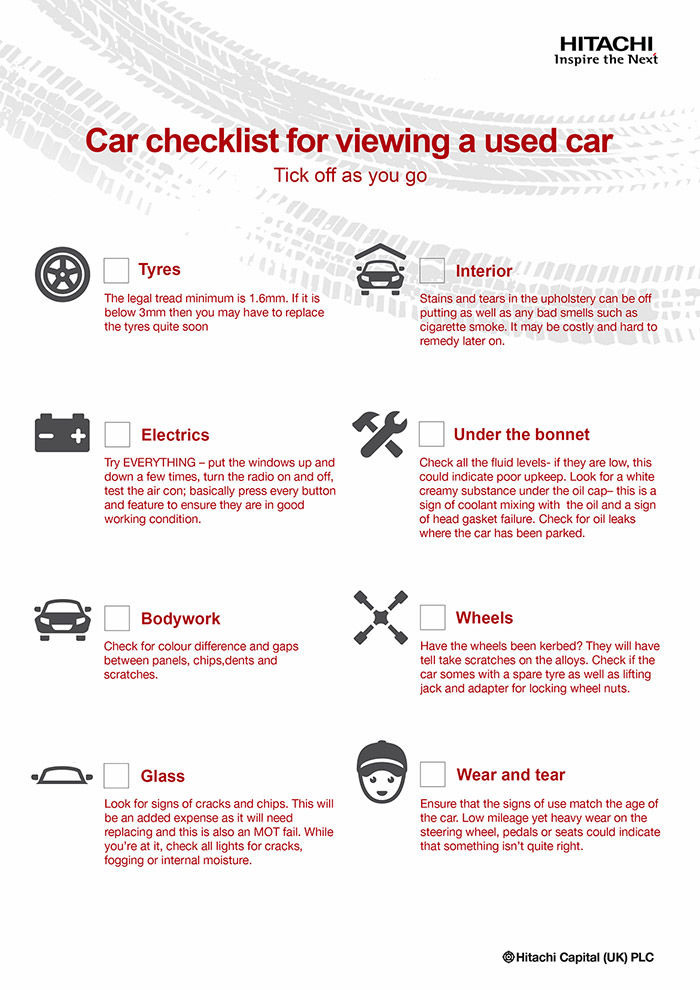 ---
Low cost car loans from Novuna Personal Finance
If you've found your next car and need a helping hand, check out our offers low-cost car loans can get you in the driving seat faster. You can borrow between £1,000 and £35,000 with competitive rates from as low as 3.6% APR Representative.
More articles we think you'll enjoy
{{article_summary}}