Buying an electric car? Here's what you need to know
Written by
Wednesday 21st April 2021

With the ban on sales of new petrol and diesel cars being brought forward to 2030, buying an electric car now seems like a real option for many UK drivers.
While this means that you can still buy a second hand conventionally fuelled vehicle, there's never been a better time to consider making the switch to electric.
In this guide, we've answered all the questions you might have on buying your first EV to help you make the right decision.
---
Are EVs and Plug-ins cars actually that popular?
The simple answer is yes.
As of the end of December 2021, there's more than 395,000* pure-electric cars and over 740,000* plug-in models (including PHEVs) being driven on UK roads and we have the second largest electric car market in Europe.
Compared to the end of March 2021, there's been a staggering 68%* increase on pure electric car ownership and a 49.5% increase on PHEVs!
---
What types of electric and plug in vehicles are available?
When you start to look at the range of eco cars for sale, you'll soon realise there's lots to choose from, ranging from fully electric to Hybrids and everything in between.
It may seem confusing at first but once you understand the differences, picking one to suit your needs won't be that difficult.
PEVs (Plug-in Electric Vehicle)
PEVs use electricity stored in a battery pack to power the car. The electric motor can also act as a generator and top up the battery by regenerating electricity when the vehicle slows down or is put into reverse. The battery is recharged by connecting it to a charging unit.
Hybrid
Hybrid electric vehicles are powered by an internal combustion engine and an electric motor working together. They can't be charged in the same as a PEV and instead, the battery is charged through both regenerative braking and the internal combustion engine.
PHEVs (Plug-in Hybrid Electric Vehicle)
Like a hybrid, PHEVs also uses an internal combustion engine and an electric motor, but in a different way. They primarily use their electric motor and don't tap into your fuel tank until the battery is flat.
Unlike a hybrid, the engine doesn't recharge the battery so it will needed to be plugged into a charging point.
MHEVs (Mild Hybrid Electric Vehicle)
This type of EV can't be driven in electric-only mode and is often fitted with a 48V battery and electrical system.
The purpose of this is to increase efficiency by attaining regenerative braking when slowing down and to use the additional power to help with acceleration and other electrical needs in the car
---
How much does an electric car cost?
Even though EVs have higher up-front costs in comparison to their petrol or diesel equivalents, they do work out cheaper in the long run when you take charging costs and road tax exemptions into consideration.
According to recent data*, the average cost to buy an electric car in the UK is around £44,000. Prices can range anywhere from £17,350 for a basic smart EQ fortwo to £138,826 for the luxury Porsche Taycan Turbo S.
| | |
| --- | --- |
| Cheapest electric car (Smart EQ fortwo) | £17,350 |
| Non-luxury electric cars | £26,965 |
| All UK electric cars | £43,896 |
| Luxury electric cars | £80,191 |
| Most expensive electric car (Porsche Taycan Turbo S Cross Turismo) | £138,826 |
---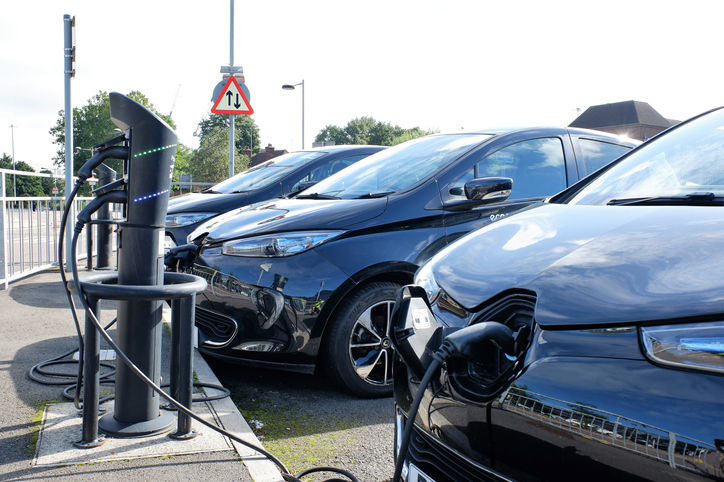 ---
Charging costs
To fully charge an electric car can cost anywhere between £2.36 and £15.49* depending on the size of the battery.
The smallest batteries at just 14.5 kWh belong to the Citroen C-Zero which provide a range of around 55 miles. The largest batteries at 107.8kWh belongs to Mercedes EQS giving an estimated 405 miles on a full charge.
Cost to fully charge an electric car, by battery size*

15 kWh

£2.27

30 kWh

£4.55

50 kWh

£7.58

80 kWh

£12.13

100 kWh

£15.16

*based on a 16.3p per kWh electricity unit cost
Home Charging
If you're planning on charging your car from home, many manufactures may offer a discount rate for a charging point or even include it in the cost of the car.
We also recommend checking out the Electric Vehicle Homecharge Scheme* (EVHS) which currently provides a 75% contribution to the cost of having a charging point installed at your property.
* From April 2022, this scheme will no longer be available so installations need to be completed by 31 March 2022
---
Where can I charge up my EV?
With more than 35,000 charging points in the UK spread over 13,000 locations, finding somewhere to recharge your EV has never been easier.
Online platforms like Zap Map take the stress out of finding a charging point, help plan longer journeys and allow you to pay for your charge time through their app making the whole process extremely efficient.
You'll also be pleased to learn that there's also thousands of free charging points which are often located at supermarkets, shopping centres, public car parks, hotels, and motorway service stations.
---
What electric cars should I consider buying?
Depending on your needs, there's an EV to suit everyone. From the compact Renault Zoe perfect for those who like a smaller car to the family friendly Nissan Leaf. You can find more info on the top electric cars to buy here.
---
Low cost car loans from Novuna Personal Finance
If you want to get your hands on your very own electric car, we have low-cost car loans can help. You can borrow between £1,000 and £35,000 with competitive rates from as low as 3.6% APR Representative.
---
More articles we think you'll love
{{article_summary}}