Buying your first touring caravan
Written by
Tuesday 22nd March 2022

With so many new touring caravans on the market in the UK, finding which is the perfect caravan for you and your family can be a challenging process, especially if you're a first-time buyer.
Camping and caravanning is perfect for those of us who love the great outdoors and the freedoms that comes with it. Touring provides beautiful backdrops and plenty of new places to explore wherever you decide to pitch up.
If you purchase a touring caravan that isn't a good fit for you, the excitement can quickly fade instead turn into a costly mistake if you end up having to replace it too soon.
To help make sure you make the right choice, we've done the hard work to help you find the best caravan to suit your caravanning needs.
---
What are the different types of touring caravans?
Touring caravans come in all shapes and sizes, from tiny teardrop trailers to huge fifth wheelers. We've listed some of the most popular ones below.
Single axle
Most caravans are single axle and measure between 3 and 6.5 metres in internally so depending on how many people will be sleeping inside, you can choose between:
2 berth caravan
4 berth caravan
6 berth caravan
The interior usually comprises for a washroom with toilet, basin and shower, a small kitchen with a sink, hob, work surfaces and storage plus multifunctional living/sleeping quarters.
Twin axle
These are larger and heavier than single axles and have a similar configuration. Although the double axle makes towing more stable, some drivers find it more difficult to manoeuvre when pitching on a site or returning them to storage.
Teardrop trailers
These little trailers are popular among drivers of classic cars, sports cars, and even trikes since they are extremely easy to tow with a small vehicle.
Even though living space is limited to a basic double bed covering the entire floor, with some designs featuring basic cooking amenities and room to carry extra belongings, these are an excellent alternative for the minimalist traveller.
Folding caravans
Watch in amazement as you see one of these unfold from a low trailer into a fully equipped full-size caravan.
They are much easier to store and tow, but they must be assembled on site each time you camp, which can be time consuming.
There's plenty of UK-based companies who make brand new folding caravans, but you may still get a good deal on a well-refurbished and out-of-stock model.
T@B
For anyone who doesn't want the typical 'white box', the German-designed T@B stands out and is ideal for those who lead an active lifestyle.
Inside, there's a giant double bed, a little kitchen, and a seating area, with barely enough room for a tiny chemical toilet. At the very least, it's simple to tow, right?
American Airstream
If you like the old silver trailers used by American movie stars, you'll be happy to know that they're available with European specifications that make them more suited for British roads.
These caravans provide all the modern conveniences in a stylish (although somewhat pricy) design, and they'll also be a wonderful conversation starter wherever you pitch up.
Fifth Wheel
They can only be pulled by a pickup truck with an articulated towing connection on the bed, rather than a standard caravan hitch.
They tend to have lots of living space with some even have slide-out sections so you can spread out even more!
Top tip – Before you buy, do your homework on the model you've decided on. Checking the cost of insurance, common issues if the layout meets your needs, and so on. Don't forget to read online caravan reviews to help narrow down your options.
---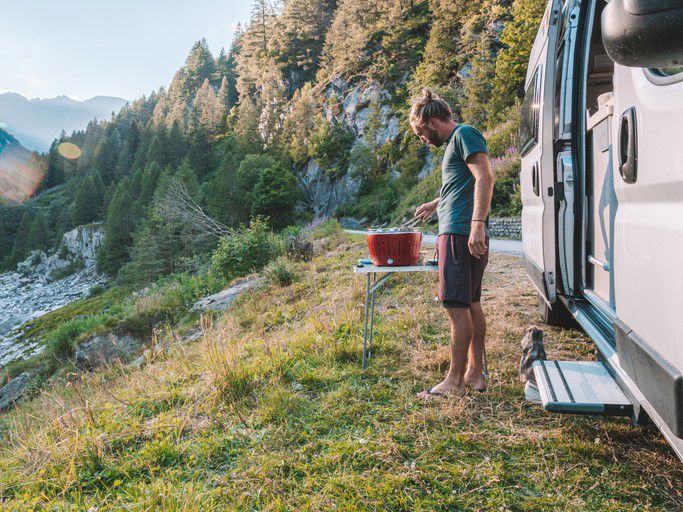 ---
Will my car be able to tow my chosen caravan?
It's really important to ensure that your vehicle is capable of towing your chosen caravan. Most vehicles have an upper weight limit set by the manufacturer, which means there may be limitations on the maximum weight they can pull.
Always double-check this, with the general rule being that if a caravan is wider than 2.3 metres, it must be towed by a commercial vehicle.
An awning is a simple way to increase the size of your caravan without adding weight making it a perfect space for eating or kids play area.
---
Which caravans are easiest to tow?
Caravans come in all shapes and sizes, with some being easier to tow than others.
Twin axle caravans are more stable and easier to tow than single axle models but might be challenging to manoeuvre when pitching or returning to storage.
Teardrop trailers are popular among those who prefer to travel light and tow with a smaller vehicle, such as a classic car or sports car.
And gigantic fifth wheelers can only be towed by a pickup truck meaning that if you don't have one, this one probably isn't for you.
Tips for towing
If you're new to towing, remember:
Be confident when driving


Be respectful and mindful of other road users


Be careful when braking, accelerating and cornering


Allow for extra space around you


Allow more time for manoeuvres


Learn how to handle snaking and pitching


Understand the towing speed limits and stick to them
Important - Bear in mind that it's illegal and very dangerous for anyone to sit inside a caravan whilst in transit.
---
What documentation should I request before buying?
Since 1992, all caravans made by NCC members have been part of the CRiS (Central Registration & Identification Scheme) and must have a unique 17-digit 'VIN'. When a caravan is sold, the new owner's information is forwarded to CRiS.
Always request to check the service history and CRiS registration paperwork for the caravan. This is also important so you can ensure the caravan doesn't have any outstanding finance.
If it hasn't been paid off, the finance company may reclaim it, or you may be legally obliged to pay the remaining debt.
---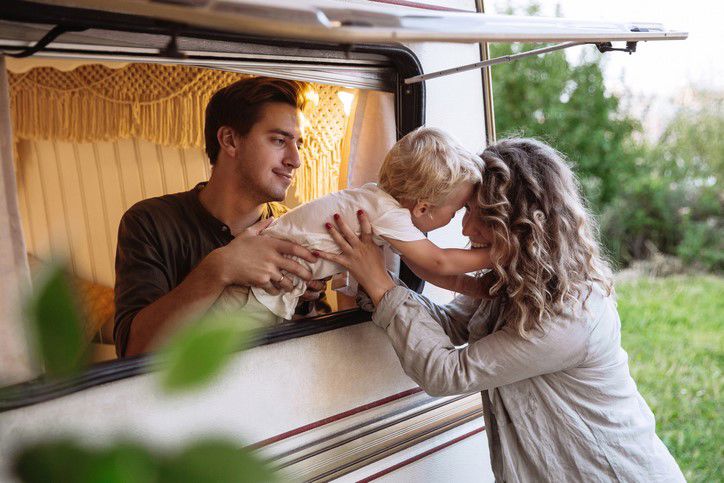 ---
What pre-purchase checks should I do if buying second hand?
Always inspect the caravan before buying it, and if you're not buying from an established dealer, make sure you're thorough. Try to do your checks during the day, and if you're not mechanically savvy, bring someone who is.
Damp
This can be a significant issue in poorly maintained used caravans, and if you're not careful, you might find yourself paying more than you bargained for.
A damp metre, which costs around £15 and is available from most DIY stores, is an easy way to check for moisture in places such as under beds, in cabinets, and on the outside of windows and doors.
Doors and windows
Inspect the doors and windows to ensure that they are secure and watertight. In double glazed units, keep an eye out for cracking or internal condensation.
Replacing any of these components can be costly, especially if it's an older model where parts are harder to come by.
Corrosion
Look for rust on the chassis as well as traces of paint or underseal that could be concealing serious problems underneath.
Check the hitch mechanism moves easily and the rubber gaiter isn't split. Always check that the handbrake is working properly.
Gas and electrics
And finally, make sure the gas and electrical systems are in working order. If you are doubtful, have a professional inspect them because malfunctioning systems can be fatal. Any DIY jobs that appear to have been performed on these systems should be investigated.
---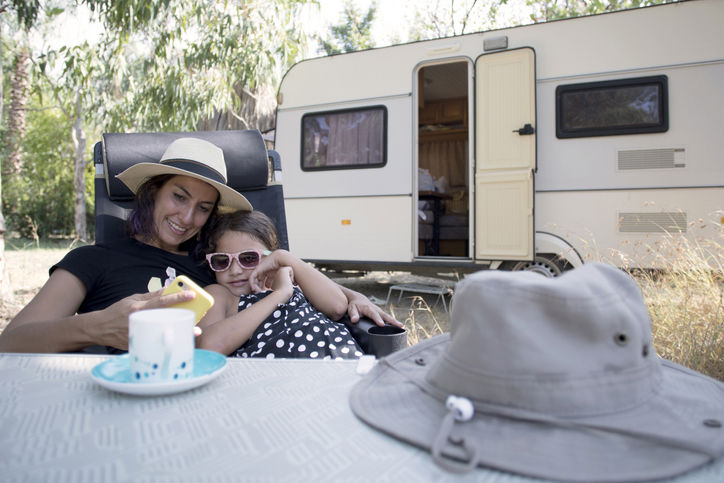 ---
Is there anything I need to know when buying a caravan privately?
If you find your dream caravan online, make sure you do your homework on the seller.
When you go to see the caravan, ask them how long they've owned it, why they're selling, how much it's been used, and if they can show you how key features work.
You also need to confirm the seller's address matches the address on the caravan's registration document, and then call CRiS with the VIN, make and model, and owner's information to run a check against their database.
---
Do I need any added extras?
If you don't do your research, purchasing caravan accessories can be quite costly. Leisure batteries and chargers, gas bottles, power hook-ups, hitch locks, TV equipment, and an awning will be incredibly useful once you begin caravanning, so look around to find the best value.
---
Do I need to service my caravan?
It's difficult to know how long any caravan will last, but a touring caravan will depreciate faster than a static due to how much it travels. However, if looked after and regularly serviced then it should last at least 10 years.
Make sure you give your caravan an annual check to make sure it is waterproof and free from damp. You should take it to a reputable caravan workshop for this check and any repairs.
---
The bottom line
Make the most of your caravan because it will become a place where many happy family memories will be created. There's no reason why you can't find a fantastic deal on your first touring trailer if you're a smart shopper.
---
Enjoy more impromptu holidays with our low-cost caravan loans
If you're finally ready to go on your very first caravanning adventure, our caravan finance can help hit the road and start exploring new places quicker.
Our flexible financing options allow you to pay for your first touring caravan in affordable monthly instalments over the course of up to five years, giving you more time to relax and enjoy creating those lifelong memories.
You can borrow £1,000 and £35,000 with competitive rates from as low as 3.6% APR Representative.