Easy garden ideas and diy projects to spruce up your outdoor space
Written by
Wednesday 10th March 2021

If you garden isn't looking its best and is need of some TLC, there's lots of ways you can improve your outdoor space without breaking the bank.
With the help of garden design expert Camilla Grayley, we have put together our top easy garden ideas which can be completed in a weekend.
---
Build a pallet sofa
If your old garden furniture is looking a bit outdated but you can't afford to buy a shiny new set, then an upcycled sofa made from wooden pallets could be a nice alternative. Guaranteed to make you want to sit out in the garden at the slightest hint of sunshine.
You can make it fit any space and customise it to your heart's content – maybe even add a funky outdoor rug to make it into an alfresco living room.
If this looks like too big a job to take on, Camilla Grayley suggests you don't have to go big to get the desired effect.
"Try adding a few beanbag chairs or a new bench for teenagers to have their own space to enjoy with friends or for you to have a drink after work or a morning cup of coffee on."
---
Hang up fairy lights
Whether you decide to use them to line your fence, wrap them around a tree or drape them from your pergola, fairy lights always create a magical atmosphere.
We recommend solar powered ones so that you don't have to worry about having an outside power outlet, plus it saves on electricity – it's a win-win.
---
Paint the fence
Inject some colour into your garden by giving your garden fence a makeover. You'll be amazed by what a good clean and a lick of paint can achieve.
Remember...
As most boundary fences are shared, make sure you check your deeds and speak to your neighbour first before painting. Alternatively, if you are renting your property, consult your letting agency as not to affect your tenancy agreement. It's best to get this in writing to prevent any disputes that could arise.
---
Add some storage
A cluttered garden is never a good look, especially in small spaces so by adding a shed, storage box or even a greenhouse, can make a huge difference.
There are plenty of storage options available and if you're feeling up to the challenge, why not try making your own?
---
Build a fire pit
For those warm summer days and cool evenings, a fire pit is just the ticket for toasting marshmallows and sharing memories with those closest to you.
This is such an easy project which can be completed in an afternoon and the result will create an amazing focal point!
---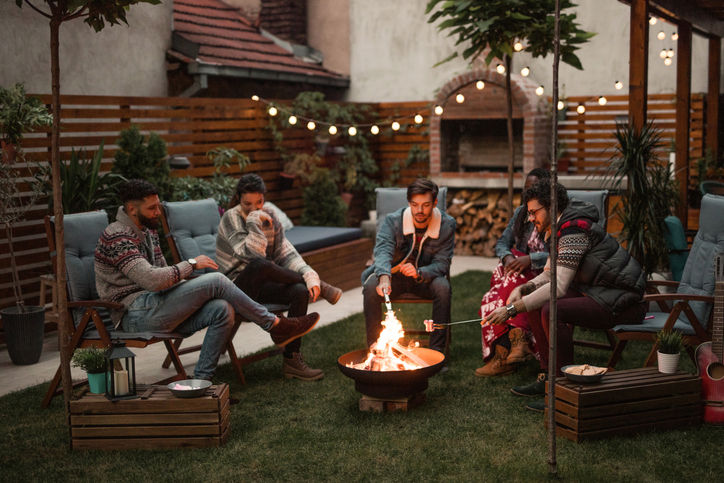 ---
Update your garden path
Jazzing up your path may not be something you have thought of, but it can make a huge difference to the overall look of your garden. From giving it a good clean with a power washer to creating a mosaic pattern, the possibilities are endless.
If you fancy a challenge, then why not try making your very own cobbled path using cement and a mould? This can be done over the weekend and enlisting the whole family to help can make for some quality together time as well.
---
Install a bird feeder or two
Encouraging wildlife into your garden can be a great way of doing your bit for the environment as creating a relaxing atmosphere for you to enjoy during your morning cuppa.
Adding a birder feeder or updating an old one is a great little project to get the kids involved with. Let them get creative with the decorating and we're sure the birds will love it.
---
Monogrammed wall planters 
Now, we think these are a super cool diy project and a great way of really putting your own stamp on your outdoor space. They may be a little tricky to construct but the effort is worth it.
You can make them as big or as small as you need to suit your outdoor space and once built, they're really easy to maintain. Check out the full guide here.
Window Boxes
If you're short on space, try adding some window boxes full of your favourite flowers, herbs or some yummy veggies. You could take it a step further and paint them a lovely bright colour and make them stand out even more.
---
Help save the bees
Did you know that honeybees are responsible for nearly 80% of all pollination? They love to be around meadows that are full of exciting plants and flowers.
You can easily replicate this for them in your own garden.
Camilla says - "Adding a few small plants or sowing a packet of wildflower seeds into an existing border is another way to update a garden with the meadow planting feel."
---
Low cost home improvement loan
If you need a hand with those bigger garden makeover projects, our low cost Home Improvement Loan can help. You can borrow between £1,000 and £35,000 with competitive rates from as low as 3.1% APR Representative.
More articles we think you'll enjoy
{{article_summary}}