How much should you spend on wedding gifts?
Written by
Thursday 25th February 2021

When it comes to buying a wedding gift for the happy couple, guests across the country will be asking themselves the same questions; "How much should I spend on a gift?" and "Is it okay to give cash?"
Here at Novuna Personal Finance, we have investigated this modern-day gifting dilemma and answered all your wedding gift giving questions so you can just relax and enjoy the big day.
---
How much should I spend on a wedding gift?
These days, not everyone can afford to splash the cash as readily as they would like. However being generous comes in different forms, so it's not always about how much you spend but more about how you spend it.
In the UK, we spend on average about £44 per person on a wedding present versus the happy couple's expectation of £30. It isn't surprising that under 25's spend around £20 compared with the over 65's who are prepared to spend a whopping £100 or more on the happy couple!
However, it's good news for wedding guests on a tight budget as almost a quarter of would-be brides and grooms don't expect a gift or cash at all…just smiles all round on their big day.
---
Is it ok to give cash or a cheque as a wedding gift?
As couples move away from asking for conventional homeware items, cash gifts are becoming increasingly common at weddings.
In today's society, most couples already live and share a house together, so are more likely to have everything that was once traditionally gifted to a newlywed couple.
More couples are now taking on the modern approach to wedding gifts by asking for a small monetary donation towards their honeymoon instead of a gift. A quirky poem is usually sent out with their invitations to let their guests know in advance of the big day.
What about gift cards?
Buying a gift voucher for the happy couple is a bit more personal than gifting cash but it still allows them the freedom to purchase whatever they want.
Gift cards such as Love2shop can be used across a broad range of stores such as M&S, Virgin Experience Days, House of Fraser and many others. Even Thomas Cook offer gift cards to use towards a fantastic honeymoon or in exchange for travel money.
Even though it's a bit more restrictive than cash, it gives them the chance to spoil and indulge themselves.
---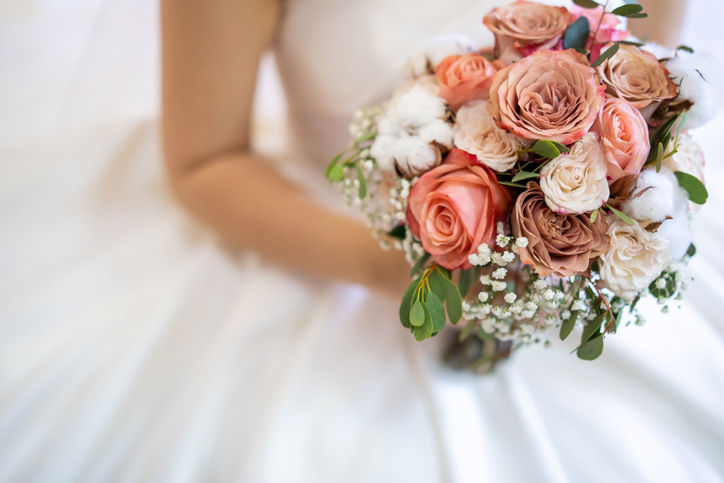 ---
Do I need to buy a gift from the wedding registry?
If you really can't decide on what to buy the happy couple, why not take a look at the bride & groom's wedding registry to help you find a gift that the couple both want and is still within your budget.
A wedding wish list or wedding registry is usually a list of items that the couple have selected together to help their guests have a stress-free gift buying experience and prevent duplicate /unwanted gifts being given.
Is a handpicked gift ok?
Many people are conscious about how much they spend on a gift, not wanting to appear cheap or overzealous.
Wedding blogger Alison Tinlin said: "It's not about how much you spend; it's about showing the couple you care. Something that is both personal and unique can become something they will treasure. That will trump an expensive gift with not much thought behind it."
So sometimes it is better to shop around until you find that perfect gift that you know they will love and cherish. You could go a step further and hand make your wedding gift and show the couple how much you really love them.
---
Experience vouchers
To help make their memories of the happy day last even longer, why not give the gift of a once in a life time experience?
With such a vast range of experiences available, from Dark Sky Stargazing to a Lovers Leap Tandem Bungee Jump (and everything in between), there's an experience to suit any budget.
Prices start at £15 and range all the way to £5,000 through Virgin Experience Days.
---
More articles we think you'll enjoy
{{article_summary}}