How to save money on your energy bill
Written by
Monday 21st March 2022

The average UK household will see their energy bill rise by £693 in 2022 once regulator Ofgem's new price cap comes into force from April.
Approximately 22 million customers nationwide will be affected by the new energy price cap with those on default tariffs paying by direct debit seeing an increase of £693 from £1,277 to £1,971 per year and prepayment customers seeing an increase of £708 from £1,309 to £2,017.
It will affect default tariff customers who haven't switched to a fixed deal and those who remain with their new energy supplier after their previous supplier exited the market.
Here at Novuna Personal Finance, we've put together our top tips to help you cut gas & electric costs.
---
How much can I save on my energy bill?
According to Energy Saving Trust, you could save up to £365 a year by making some simple changes to the way you consume energy in your home.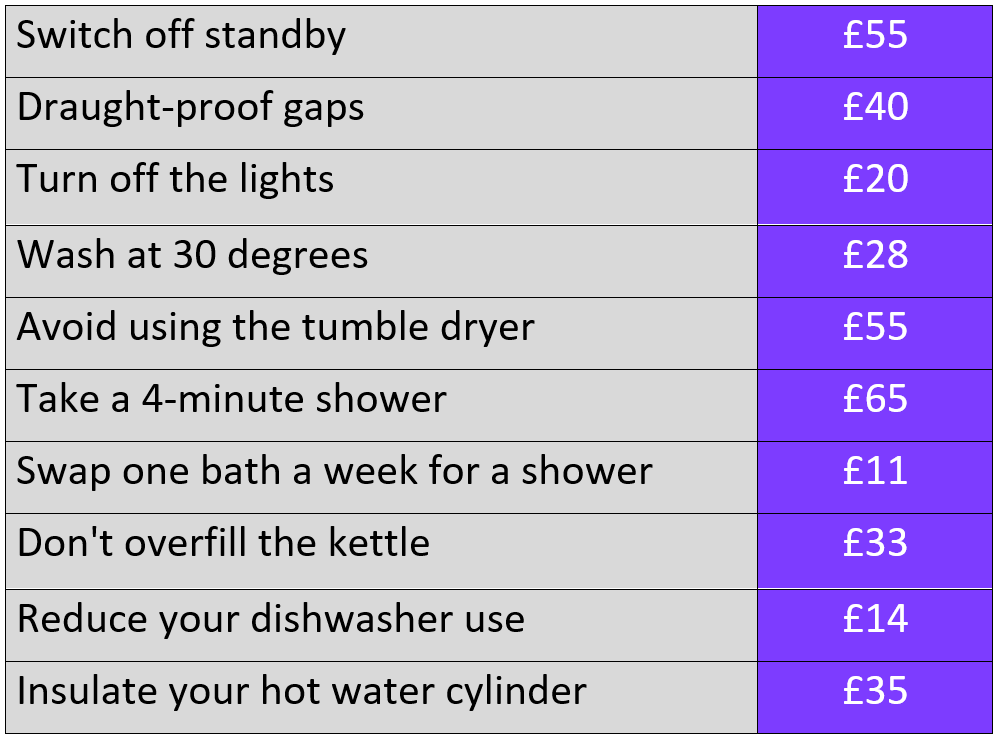 ---
Monitor your energy consumption
Are you aware of how much energy you are using and how much energy you might be wasting?
By getting a smart meter installed, you can easily keep track of your household's usage and the best part is, you can get them for free from your energy supplier!
Place the meter in a location the whole family can keep tabs on, like the kitchen worktop so everyone to see exactly how much energy they are using. This will help prevent wasting energy and help to identify potential areas where you could cut back.
---
Switch off lights and appliances
As lighting makes up 15% of the average UK household electricity consumption, switching off lights is probably the most obvious energy saving trick, but it does make a difference in lowering your energy usage. You could save around £20 a year by doing this.
We consume a lot of electricity at night to light our homes, however, energy saving lightbulbs such as LEDs are significantly more efficient than traditional bulbs.  By replacing all your bulbs with LED ones, you could reduce your carbon dioxide emissions by up to 40kg a year. This is equivalent driving 140 miles in your car. They're widely available, inexpensive, and will save you money.
Unplug any appliances or charging cords that aren't in use, as these can waste electricity.
According to the Energy Saving Trust, turning off all your electrical appliances rather than leaving them on standby can save you roughly £55 per year.
---
Switch to eco-friendly appliances
You could save even more energy and money by ensuring that your home only uses the most eco-friendly and efficient appliances.
For example, kettles are one of the most used appliances in the kitchen and costs about £55 a year to run. By switching to an eco-kettle might save you up to 30% on each boil.
Every new appliance has an energy efficiency rating, so the next time you go shopping for a replacement, opt for highly efficient ones with an A rating.
---
Turn the heating down
Heating your home is becoming increasingly expensive so by turning your thermostat down by just 1°C, this can save you as much as £80 per year on your heating bills, according to comparison website uSwitch.
So, if you can put up with a slightly cooler home and layer up instead, this could make a significant difference to your energy costs.
Another way to keep your heating bill down, is to make sure you don't leave the heating switched on (or at least keep it turned down low) while you're out of the house for prolonged periods.
---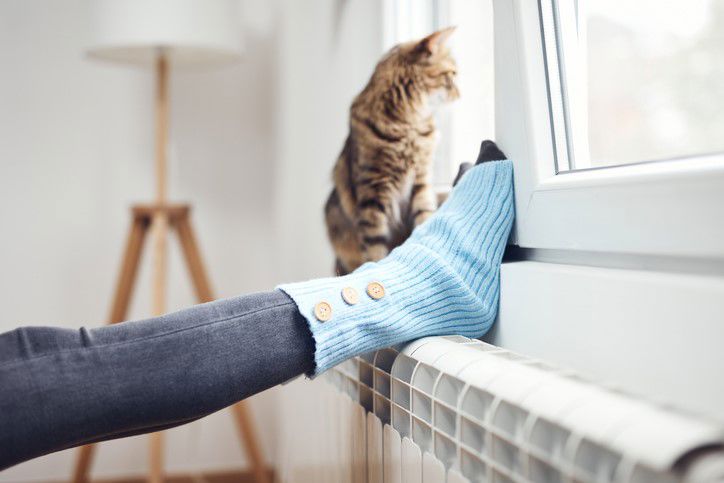 ---
Draught-proof your home
Draughts are simply cold air currents that can be felt around windows, doors, flooring, and pipework going into your home. They can cause your home to become colder more quickly, resulting in heat loss.
Draughts can be easily eliminated by utilising draught-proofing strips and excluders for doors and windows. Silicone fillers can be used to cover minor gaps around pipes and electrical plugs. Larger gaps can be filled with expanding polyurethane foam, which expands and hardens when it dries.

Professional draught-proofing of windows, doors and fixing cracks in floors and skirting can cost around £200 but could save around £40 a year on energy bills.
---
Install loft & wall insulation
By ensuring you have an adequate level of insulation in your home, you can save you a lot of money on your energy bill.
If the walls and roof are not properly insulated, the heat from the house will be lost at a much faster rate compared to a well-insulated property.
The main area of ​​focus should be your loft, where most of the heat is lost. According to the Energy Saving Trust, loft insulation can last for at least 40 years making it a worthwhile investment if it's not yet insulated.
Installing loft and wall insulation is a simple task which you can do yourself if you don't want to get a tradesman in.
Let's not forget about your hot water cylinder either, effective insulation could help you save £35 a year.
---
Upgrade your boiler
If you have an old combi boiler, especially one that is more than ten years old, it is most likely G-rated and has an efficiency rating of around 70%. This means for every £1 spent, 30p is being wasted.
Modern boilers are 90%+ efficient, which means that most of the energy is converted to heat with only 10p wasted.
As a result, it's well worth upgrading your boiler; not only will it reduce energy waste, but it could save you up to £340 and 1,500kg of CO2 emissions per year, according to boilergrants.org.uk.
---
Install double glazing
Homes with ill-fitting or single-pane windows lose a lot of heat in this way, so upgrading to double or triple-glazed windows will prevent heat loss and keep your home warmer for longer.
However, installing new windows is not a quick or cheap option, so you will need to sit down and do your research to find the best deal for your needs.
The upfront costs of double glazing can be significant, but the long-term savings should ultimately cover the cost. We still recommend that you do your research to get the most bang for your buck, and that you look for the 'Energy Saving Trust recommended' logo, as these are the most efficient.
It's also worth investigating whether any government funds are available for double glazing.).
Quick Fix: Purchase thick curtains with a thermal lining to hang over your windows (and even doors) to prevent heat from escaping when your heating is turned on.
---
Thinking of making your home more energy efficient?
Our home improvement loans can help you cover the costs of making your home more energy efficient and help you cut the costs of your energy bills in the long term.
Our flexible financing options allow you to pay in monthly instalments over the course of up to five years, giving you more time to plan your home improvements.
Borrow between £1,000 and £35,000 with competitive rates from as low as 3.1% APR.
---