The COVID traffic light system: Holidays abroad this year
Written by
Monday 24th May 2021

Last month, the 'Stay in the UK' regulation ended, and overseas travel resumed for people in England and Scotland under a new 'traffic light' system introduced by the UK Government.
However, there's still a lot of uncertainty surrounding booking a holiday and with updates being made every three weeks to which countries are on the 'Green List', holidays makers could face issues whilst abroad.
The Government has also made it clear that it "will not hesitate to act immediately should the data show that countries risk ratings have changed". This means if you don't keep an eye on the travel lists, you could end up paying more than you budgeted for.
We've put together all the latest information on travelling abroad so that you know what's going on and make the best decision when it comes to your 2021 summer holiday.
---
What is the COVID traffic light system?
The COVID-19 traffic light system provides a list of travel destinations around the world which are graded either green, amber, or red, depending on how well they're coping with the pandemic e.g. vaccination numbers, hospitalisation levels, infection rates and new variants.
Each colour has its own levels of restrictions and considerations that travellers must follow, with red being the highest level of restrictions and green being the lowest. The green rating means travellers don't have to quarantine when they return home to the UK, making planning a trip easier this summer.
You should not travel to red list countries or territories for leisure purposes.
---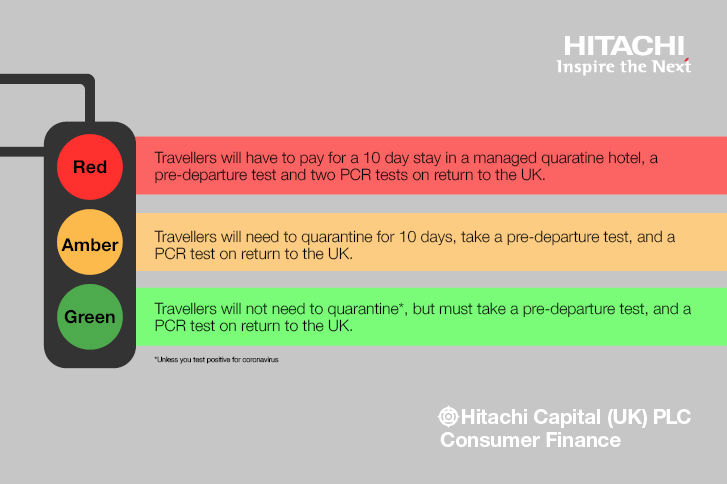 ---
How will the travel traffic light system work?
Green destinations – Travellers must take a pre-departure test and another PCR test on or before day 2 of their return to the UK. No quarantine or additional tests are required unless you test positive.
Amber destinations – Travellers must quarantine for 10 days, take a pre-departure test and a PCR test on day 2 and day 8 after their return, with the option of a "test to release" on day 5 to end self-isolation early.
Red destinations – Travel to these countries will be restricted.  Any returning travellers must stay for 10 days in a quarantine hotel, take a pre-departure test and a further PCR test on day 2 and day 8 after returning.
---
How frequently will countries change traffic light colours?
To reduce the risk of travel disruption, the government plans to update the red, amber, and green lists every three weeks. There will also be a 'green watchlist' which will identify any countries at risk of moving from green to amber giving travellers time to make alternative arrangements.
---
What if the country I'm visiting changes it's traffic light colour while I'm there?
If you're already in a country when it's added to the red list, you may need to pay for a flight home before the change takes place, If you choose to stay then you will have to pay for hotel quarantine on your return.
Wherever you decide to visit this year, you'll need to factor in the cost of tests to your overall holiday budget as you'll need this to travel to and from green list countries.
---
Which countries are on the green list*?
The current list includes:
Australia
Brunei
Falkland Islands
Faroe Islands
Gibraltar
Iceland
Israel and Jerusalem
New Zealand
Singapore
South Georgia and South Sandwich Islands
St Helena, Ascension and Tristan da Cunha
You can keep an eye on the green watchlist here
---
What are the rules for visiting a green country?
Before travelling to England, you will need to:
Take a COVID-19
Book and pay for a day 2 COVID-19 test which will be taken after arrival to England.
Complete a passenger locator form.
On arrival to England:
You must take a COVID-19 test on or before day 2 after you arrive (children aged 4 and under do not need to take this test)
You do not need to quarantine unless the test result is positive.
You must quarantine if NHS Test & Trace informs you that you travelled to England with someone who has tested positive for COVID-19.
---
How much do COVID-19 tests cost?
Although these tests are a little pricey, they are slowly being reduced in cost with the cheapest being offered by Lateral Flow (Antigen) Fit to Fly for £32* and the most expensive being £132* by Amber Arrivals PCR.
---
Can I book my holiday to a green-listed country?
Yes – but proceed with caution.
If you're desperate to book your holiday abroad, make sure you're fully prepared to accept last minute changes and book flexibly wherever possible.
Alternatively, if you'd rather stay on home turf, check out the top UK staycation destinations to visit this year
---
*all facts and figures updated and correct as of 17/06/2021
More articles we think you'll enjoy
{{article_summary}}