5 things to know before you apply for personal loans
Written by
Wednesday 11th May 2022

Whether you're renovating your home, starting to plan your dream wedding, buying a new car, or consolidating your debt, a personal loan is a practical option to help you achieve your goal.
However, taking out a personal loan is still a big financial commitment and isn't something that you should go into without knowing the basics.
Here at Novuna Personal Finance, we've put together some key information that we think will be useful to help you to make the right decision.
---
Check your credit score
A healthy credit score and credit report will be the difference between scoring a competitive APR and having your application declined.
Not every lender will want to take you on as a customer if they can see that you've made late or missed repayments. Even if they do, you're likely to be offered a much higher APR than the headline rate due to being classed as a risk.
Before you apply for a personal loan, take the time to have a look at your credit report to ensure that it's fully up to date and to get a realistic idea of what type of APR you'll likely get.
---
Don't make too many applications
If you're trying to suss out which lender will give you the best APR, applying for multiple loans at the same time is likely to do more damage than good.
Unlike when comparing insurance quotes, each application you make will be marked down as a hard search on your credit file which often raises red flags to lenders. In some cases this could result in being declined for a personal loan which you otherwise would have qualified for.
However, using an online loan eligibility checker will allow you to compare loans and see which you're most likely to be accepted for without impacting your credit score.
---
Secured vs unsecured lending
When it comes to choosing the right loan, it's important to understand what type of product you're applying for and if it meets your financial needs. The two main types of loans available are unsecured and secured.
Unsecured loans, more commonly known as personal loans, don't require you to put up any form of collateral. Instead, lenders will assess your creditworthiness and paying capacity to determine how much you can borrow and at what rate of interest. If you default on your repayments, then this will be recorded on your credit file making it more expensive to or even impossible to borrow in the future.
In comparison, a secured loan requires you to pledge an asset against the amount you wish to borrow such as your house or car to provide a form of security to the lender. The value of your assets will be taken into consideration when deciding how much you can borrow and is also likely to affect the interest rate you are given. If you fail to make repayments, then the lender can potentially sell your assets to clear your outstanding balance
---
It can cost less to borrow more
It might sound strange but borrowing more than you need can actually work out cheaper.
As many lenders will have an APR based tier system built round the amount you want to borrow, the general rule of thumb tends to be "the larger the loan, the lower the interest rate".
If the amount you want to borrow is boarding on the edge of the next tier up, this is usually when the most cost-effective option is to borrow a little extra.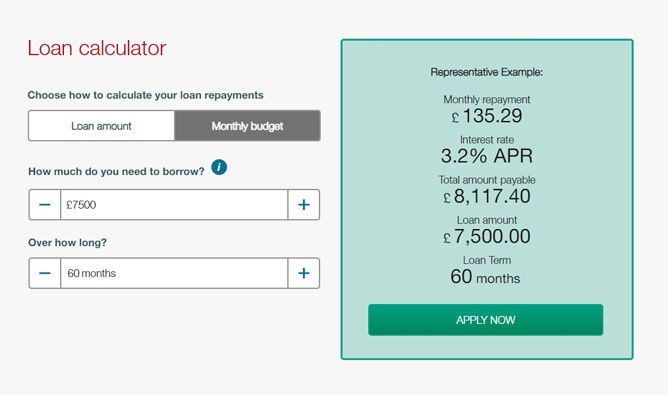 ---
Consolidate your debt
And finally, if you have multiple debt spread out over different products like credit cards, store cards, or small loans, combining it together by taking a single loan is likely to reduce the amount of interest you're paying and help make it more manageable.
Before you apply, start by working out the total amount that you owe as well as the amount of interest you're paying. This will help you calculate how much you need to borrow to cover everything and decide if this is the best and cost-effective option for you.
---
Low Cost Personal Loans
Whether you're looking to buy a new car, make some home improvements or just tidying up your finances, our low-cost personal loans can help. You can borrow between £1,000 and £35,000 with competitive rates from as low as 3.6% APR Representative.
More articles we think you'll enjoy
{{article_summary}}